The SAMXON® brand has been established for over 38 years and it is a major brand name within the Man Yue Group of companies. SAMXON® specialises in Aluminum Electrolytic Capacitors, providing a full range of products from miniature to large cans with extensive capacitance and temperature ranges, low ESR, high voltage and proven long life.
SAMXON® believes that to sustain customer loyalty, we must be:
Trustworthy − our customers trust us because of our integrity
Reliable − our customers can rely on us because of ourexcellent service
Reputable − our customers recognise our name because it is synonymous with quality
SAMXON® has gained international recognition through its continuous drive to provide customers with the best Quality, Delivery and Services. Whilst today's dynamic and technologically evolving market is constantly changing, SAMXON®'s commitment to satisfy customer demand will never change. SAMXON® is committed to providing quality products, competitive prices, stable supply, professional sales, support and services as well as world-class manufacturing facilities and local China delivery.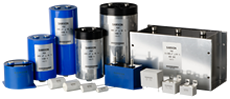 The X-CON® was established by the Group in 2006 and it is the second brand name within the Man Yue Group of companies. X-CON® is a brand new type of capacitor known as "Conductive Polymer Aluminum Solid Capacitors". This continuous product innovation is contributed by our internal Research and Development Team and the research laboratories at the Research Institute of the Tsinghua University in Shenzhen whom we worked closely with.
To persue the theory of "Application Determine Technology", we have innovated the X-CON® in 2006 that is known for its reliability, durability and adaptability in high temperature environments. In comparison to the traditional Aluminum Electrolytic Capacitors, X-CON® offers an extra benefit in added safety measures as Polymer is hundreds of times more conductive than the materials used in the traditional E-Caps. In application front, X-CON® is especially good for using in the advanced high-speed computer and digital consumer electronic equipments.
X-CON® has gained international recognition by obtaining the direct approval from several global computing technology leaders who based in the USA. To cope with the increasing market demand, our large scale production has taken place in 2007 and its trend is being upside.